WAIT IN THE PARKING LOT WEEK
*COMMENT LINE: 206-333-1648*
***
DIRECT LINK TO SHOW
***
We've all been there ... sitting in the car, waiting for someone to finish shopping so we could go home ... I mean, after we tried the hold our breath in the store until we turn blue and throw a tantrum thing because we were missing something on TV ... as many of us learned the hard way, you can only do that once before you realize after the fact that your HMO won't cover the ambulance expenses as a legitimate emergency, even if it was season finale week.
SEGMENT ONE:
Wal-Mart
vs.
Apple
: Cupertino taketh away thou DVDs, but also giveth backeth to the bottometh lineth.
SEGMENT TWO:
Podzinger
minute:
Lindsay Lohan
,
Kiera Knightly
and
Lynne Cheney
in a lesbian three-way, among other stream-of-consciousness things.
PODSAFE MUSIC:
Howard Jones, "Building Your Own Future."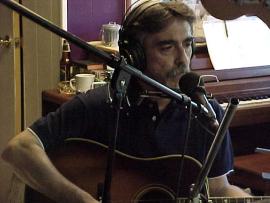 SEGMENT THREE:
Part One of my interview on
Cotolo Chronicles
, the first and still best trendsetter in online alternative content.
I hung a shingle out in
Second Life
... if you're avatar-enabled, teleport to my Digital Slob Memorial by clicking on the
link here
or at
digitalslob.com
.
Also, digitalslobpod is now a proud member of the
Aloha Podcast Network
,
Fresh Media Works
,
The Podcast Pickle
and
blubrry
.
Write a review for digitalslobpod on iTunes.
Digital Slob
digitalslobpod podcast
vote here
"Online Meetings Made Easy with
GoToMeeting Try it Free for 45 days
use Promo Code Podcast"